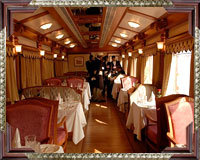 The facilities available on board the Golden Chariot offer a unique chance to the travelers to feel like royalty and wrap themselves in pure and unadulterated luxury. In other words, the facilities available in these coaches are simply majestic. The Golden Chariot boasts of several facilities like:
Nala and Ruchi Restaurant
The train has two restraints in board that dish out vegetarian and non-vegetarian cuisines. The vegetarian restaurant is named after Nala the mythological chef. While the non-vegetarian restaurant Ruchi means fine taste in Sanskrit, the language of ancient India. The interior décor of the restaurants is based in the ruins of Hampi and Halebid. The restaurants have two/four seater cabins that ensure privacy and comfort during your meals.
Madira - Lounge Bar
The Golden Chariot also has a bar on board that allows the passengers to enjoy fine spirits. The passengers can also watch performances by local artisans as they savor their drinks and reflect on the day's travel. The elegant seating and decor at the bar is modeled after the world famous Mysore Palace.
Conference Coach
The Golden Chariot ensures that even while traveling amongst the historical sites in Karnataka, its privileged passengers do not let their work suffer. The train has all the modern facilities and equipments that make it an office on the move. The train has a separate conference coach that has a seating capacity for up to thirty business leaders. The coach also has a forty two inch LCD television and offers high speed internet connection so as to allow its passengers connected with the world outside.
Gym Coach
The passenger's aboard the Golden Chariot do not have to miss their daily exercise regimen while they enjoy a quaint heritage tour on a luxury train. The golden Chariot has separate gym coach that has an Ayurveda centre along with a spa and a gym to help passengers relieve stress and remain healthy.