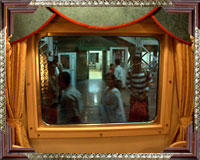 The golden chariot management has taken every possible precaution to make the train as close to history as humanly possible. The passenger coaches of the train that are eleven in number are a prime example. For starters, the coaches have been named after the various royal houses that have ruled Karnataka over the ages like Rastrakuta, Hoysala, Ganga, Kadamba, Chalukya Bhahamani, Adhilshahi, Sangama, Shathavashna, Yudukula and Vijayanagar.
It is not just through names alone that the golden chariot is able to invoke the royal sentiments. The train's interiors are fit enough to be a king's personal bedchambers. The Golden Chariot has been artistically decorated with several delicate carvings. The wall panels and furniture take their inspiration from the Mysore and Hoyasala architecture. The weeklong journey that the Golden Chariot encompasses through Karnataka and Goa is as royal and majestic as the destinations that it covers due to the facilities adorn its coaches.
The red carpet treatment doesn't end here though; the coaches also have a wi-fi ambiance, plasma televisions and attached baths. The coaches are fully air conditioned. The coaches of golden chariot have 26 twin beds along with 17 double bed cabins and one cabin for the physically challenged. The beds on the on the golden chariot also deserve a special mention for they provide unparallel comfort that is much sought after a long day of travel. The cabins also have an attached wardrobe, writing desks etc. that only add to the comfort of travel.